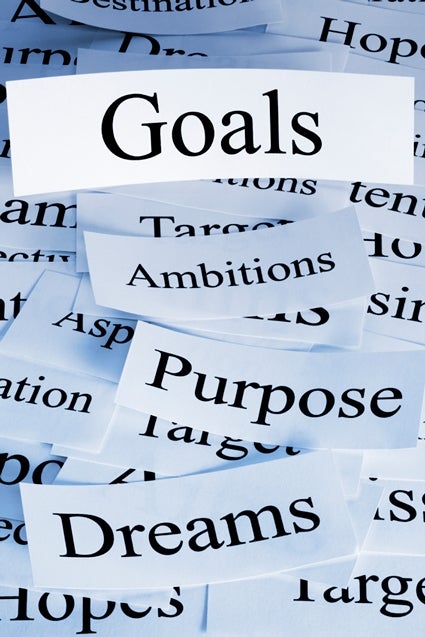 26 Mar

Seth and Your Personal Goals

When the intellect is used properly, it thinks of a goal and automatically sets the body in motion toward it, and automatically arouses the other levels of communication unknown to it, so that all forces work together toward the achievement.

—The Magical Approach, Session 5


Seth says, "What you are learning is a technique for self-development. You cannot use it, therefore, to attain those things that do not pertain to your own self-development, and the techniques will not help you get something that you were not meant to have, nor that you have before decided as an entity that you should not have."

We cannot be effectively run by our ego alone. Yet that's what our ego tries to make happen when we don't experience our self as a wholly inclusive spiritual, physical and mental consciousness. Not just by intellectually grasping this wholeness, but by homogenizing it into who we accept as our self. Our ego will keep choosing goals and flinging them out there with the hope they will "take," facing disappointment if they do not, or worse perhaps, some ongoing negative results that play out through linear time in our camouflage reality…with us meanwhile losing faith in our ability to consciously create.

Keep in mind that while we're talking about consciously chosen desires, all beliefs set goals all the time, disadvantageous or advantageous, recognized by us or not. What we're attempting to do is to consciously choose our desires in a clear and balanced moment point, thereby rendering disadvantageous beliefs modified or inactive, simply because of the framework itself. So, we will proceed with setting the moment point stage with the advantageous beliefs that will convince us that our individual goals are indeed within our grasp.

Goals and Their Moment Point Playing Field

The universe loves clear intent. To that end, we'll start our tasks for this chapter now, the issue being to clarify more of the moment point playing field, in this case for the goals we will eventually offer it. Once we know what we're dealing with in the moment point, choosing our goals of choice will become a private experience of assessing our significance and today's desires to determine a path forward.

Task #19 – Grasping the Implications of Your Personal Goals

As we proceed, here's a comment from Seth to consider as we contemplate which personal goals to run with: "Use the abilities that you have, and in that way you will reach your own heights. By using the abilities that you have, you become more the person that you already are. And you can be that person, easily. You are that person, easily. You do not need methods… All that you have to do is to realize that this energy is your own… You do not have to seek it, to punish yourself for it, or drive yourself to attain it. It is yours, and it has always been yours. Simply ride the natural energy of your own being."

Start this task by choosing a goal which you would like to manifest. Now you'll take a look at its influence and ramifications, and make a final choice on whether or not to proceed with it.
………………………………………………………………………………………………………………………………………..

1. If you really believed your goal was inevitable, what would go through your mind? How would it be different than if you only hoped it would happen? Answer these questions to find out:

* What would I think today about what is to come?
* How would I feel today about what is to come?
* How would I act today knowing what is to come?
* What advantages would there be with my goal's appearance?
* What disadvantages would there be?
* How would my goal increase my value fulfillment?
* How does my goal match my known significance?

2. And the final question: Is this goal a clear, obvious choice to you now? Or are there any doubts about how it fits in with your inner self's hopes and plans for you? And if there are doubts, can you easily balance them against your choice?
………………………………………………………………………………………………………………………………………..

Later, through use, you will see where these questions can become a lifeline of sorts to the you of the moment point, the one of your own definition. My sincere best wishes with this task, my friends! In my opinion and experience, it's a game changer.

__________________________________

Excerpted from Living a Safe Universe, Vol. 2: A Book for Seth Readers, by Lynda Madden Dahl. Lynda is the award-winning author of six Seth/Jane Roberts-based books. She is co-founder of Seth Network International, the global meeting place for Seth readers; published a quarterly magazine, Reality Change: The Global Seth Journal, for seven years; has produced numerous Seth conferences and been a speaker at many others. You are invited to become her friend on Facebook and on Twitter, and follow her at Lynda's Seth Talk Blog.